New Technology Revolutionizing TrackPad
Posted in
Every new device that hits the market seems to be even smaller than the one before. Now, with the help of new Synaptic technology, the next generation of laptops could be the thinnest ones yet. Synaptics, creators of capacitive sensing technology, are responsible for the technology behind laptop trackpads. This pressure technology is what allows you to scroll and tap on your trackpad to control the mouse. The newest technology, expected to be rolled out in 2013, will far exceed the trackpads we use at the moment. Synaptics has debuted the ForcePad, a multi-finger trackpad that can sense the movement of all five fingers at once. It can measure up to 64 levels of sensitivity, and adds a completely new dimension to the trackpad. The touch sensitivity of the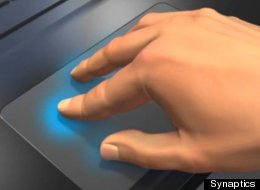 ForcePad will be able to measure up to 1000 grams of force. Say for example you're playing a game involving flying a plane. With the touch-sensitive ForcePad, you could control the airplane to the right by simply pushing down harder on the right side of the trackpad. This gives you the ability to control the trackpad without the use of buttons or mechanical hinges. Synaptics also introduced the ThinTouch, a thinner, touch-sensivite keyboard. Some of the benefits of the ForcePad and the ThinTouch include:
A keyboard and track pad up to 40% thinner than ones available now
A capacitive sensor that will disable the trackpad when the keyboard sensing that you are typing
A trackpad without any buttons
Scroll speed based on pressure
More room for internal components such as a larger battery
Improved backlighting
This new technology will be featured in the User Interface Software & Technology Student Innovation Contest, where groups of one to four students will work to implement new ideas for future generations of trackpads. Below are a few more gestures that will be supported by the trackpad (image courtesy of Tomshardware.com):
Information courtesy of:
tomshardware.com, pcworld.com, xbitlabs.com, techcrunch.com
Be sure to subscribe to the Slickblogs RSS Feed for behinds the scenes looks from the Slickwraps headquarters, and the latest technology and Slickwraps news!
0 customer responses
X
Made in USA
© 2020 Slickwraps, inc.